Venue & Host City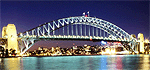 What's On in Sydney
Conference Venue – Novotel Sydney Manly Pacific
The conference will be held at Novotel Sydney Manly Pacific which is nestled perfectly to enjoy the very best of the Australian lifestyle. Located directly opposite Manly Beach and only 15 minutes from Sydney's CBD by the Manly Fast Ferry or a leisurely 30 minutes via ferry.
Manly is nested between the Pacific Ocean and Sydney Harbour, a beautiful peninsula of 18 beaches, hidden coves and inlets surrounded by National Parks, Aboriginal sites and historic landmarks. A beachside oasis for surfing, swimming and sailing, scenic walks, international dining, shopping, galleries and festivals.
As Manly's largest and only international hotel it boasts a choice of 213 guests rooms and suites, all being spacious and light-filled with uninterrupted views from downtown Manly to the beach and beyond. Overlooking the beach it's all day dining at Zali's Restaurant, open daily for breakfast, lunch and dinner offering an innovative menu and healthy choice meals throughout the day. There is also the choice of a pre-dinner drink at The Lobby Bar or Charlie Bar for traditional pub-style fare. Sable, located on level 2 offers a tapas style wine bar.
Location and Map
Hotel Address:
55 North Steyne
MANLY NSW 2095
Distance from City Centre: 15km
Distance from Airport: 35km
Distance from nearest train station: Chatswood Station, 15km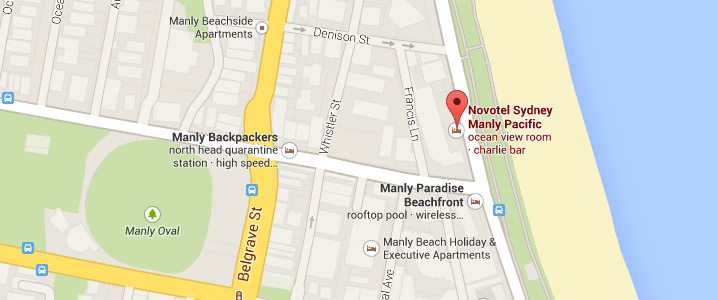 ---
Discover the Region
The "Down Under" experience for travellers:
Australia
Australia is a land of many opportunities for visitors. It contains a breathtaking diversity of natural landscapes from the snow-capped mountains of the Southern Alps to the lush rainforests of the tropical north, and from the spectacular surf beaches of the coast to the wide open spaces of the Australian Outback. No visit would be complete without exploring some of Australia's natural heritage icons, such as the Great Barrier Reef, Kakadu National Park and Uluru.
Just as distinct are Australia's cities, where our laidbacklifestyle and cosmopolitan culture meet. You will find a melting pot of cultures and a medley of theatre, restaurants, nightlife and events. Come, stay and celebrate, then spring into the rest of your Australian holiday. Australia has so much for you to explore, whether you want nature, wildlife, outback adventure, islands, rainforest or reef. Australia's unique beauty is spread across eight states and territories, so find out more about the distinct attractions within each:
NSW
New South Wales lies on the east coast of Australia. The State capital, Sydney, is Australia's premier gateway and the largest city in Australia. Well serviced by flights from across the world, NSW also has a network of regional airlines, trains, buses and coach services making it easy to get around.
The regions within three hours' drive from Sydney offer a world of astonishing natural attractions - stunning wine regions in the Hunter Valley and Southern Highlands, beaches on the Central Coast and around Wollongong, World Heritage national parks in the Blue Mountains and at Barrington Tops and spectacular coastal and country scenery. Further afield, the Snowy Mountains is a year-round destination for winter sports and summer hiking; beautiful and unique, Lord Howe Island is a World Heritage-listed island paradise.
Country NSW, stretching across the rich agricultural lands and western plains, is criss-crossed with food and wine trails and touring routes amidst beautiful natural landscapes. Outback NSW has a mix of vast national parks, quirky towns, a thriving arts scene, rich and lasting Aboriginal heritage and the awe-inspiring magic of the desert. The North Coast of NSW provides a taste of classic Aussie surf culture with great surf beaches and a relaxed lifestyle, while the South Coast has a collection of stunning natural treasures - more than 30 national parks, marine parks and reserves.
Local visitor information centres around the State offer assistance with information, bookings, attractions and travel routes.
Find out more about its distinct attractions:
Sydney
Sydney's laid-back outdoor lifestyle and physical allure make it one of the world's easiest and most pleasant cities to visit. The people who live here are a friendly, energetic bunch with a tell-it-like-it-is approach to life as visitors to the Sydney 2000 Olympic Games found out for themselves.
When it comes to which city is Australia's true global city, there's no argument it's Sydney – with its sense of style, its love of sport and exuberant celebrations including New Year's Eve and Australia Day. All of its attributes lie within easy reach of the city centre. Sydney's harbour is its natural playground, the dominant factor in so much of what the city has to offer. The city has a wide-ranging cultural life, dynamic food scene and vibrant cityscape of outstanding contemporary and colonial architecture. Iconic beaches and five major national parks deliver unforgettable experiences.
Gateway to Australia and set on one of the world's most stunning harbours, Sydney extends north and south of the harbour in a golden chain of easy-to-reach, inner-city beaches.
The temperate climate delivers warm summers and mild winters, with rainfall spreading throughout the year. January, the city's warmest month, averages temperatures between 18.6°C and 25.8°C. This warm climate attracts people to Sydney's iconic beaches, most notably Bondi and Manly, almost all year round.
Sydney is easily accessed by car and public transport. Sydney's Orbital road network is made up of 10 motorways linked with expressways, freeways and other main roads to get you around the city and surrounding areas. A public transport network of buses, CityRailtrains, monorails and Sydney ferries, service Sydney's major tourist attractions including beaches and shopping precincts.
Find out more about its distinct attractions
New Zealand
New Zealand, as co-host country for the congress, provides many unique attractions for the traveller. Also known by its indigenous Maori name of Aotearoa, commonly translated as The Land of the Long White Cloud, New Zealand has a mild and temperate climate, and is a compact country for ease of travelling. Similar to Australia, its long isolation from the rest of the world and its island biogeography, New Zealand has an extraordinary array of flora and fauna, unique landscapes and natural resources, and a wonderful cultural history. These qualities make it a haven for many outdoor activities, and a great place to unwind. New Zealand society is diverse, sophisticated, and multicultural, with European, Maori, Pacific and Asian influences. It's a culture that celebrates the many different lifestyles we live and the stories we have to tell.
Pacific Islands
The Pacific Islands comprise 20,000 to 30,000 smaller islands in the Pacific Ocean. The Pacific islands south of the Tropic of Cancer are traditionally grouped into three divisions: Melanesia, Micronesia and Polynesia. The islands consist of thousands of coral atolls and volcanic islands, with beautiful landscapes and small human populations. Some of the better known are Papua New Guinea, Vanuatu, the Solomon Islands, Fiji, Polynesian Samoa and the Cook Islands. Lesser known are tiny island nations such as Kiribati which is scattered across a stretch of ocean as wide as Australia. All Pacific islands have a tropical climate with fantastic travel packages including fishing, diving, trekking and backpacking. Wherever you go, you are assured of a warm welcome and diverse cultural experiences.
Find out more about their distinct attractions:
---